Splatter Screen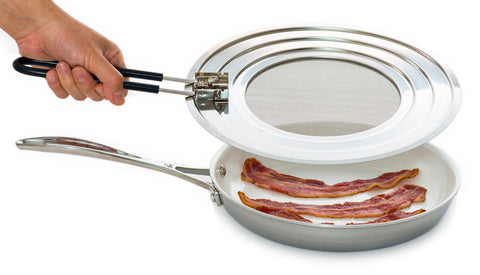 ✅ EASY TO CLEAN & EASY TO STORE IN SMALL KITCHEN ❗ – Unlike other large bulky grease splatter screens with a long non-folding handle, which are hard to fit in a dishwasher or tight kitchen storage spaces, FOXEL premium splatter guard features an innovative heat-resistant soft silicone handle that ensures easy fitting in a dishwasher for easy cleaning, and easy storage in your kitchen drawers and cabinets

☝ NOTHING ESCAPES FROM THE PAN ❗ – Stop scrubbing and wiping your stove top for hours! Our universal stainless steel splash guard with a fine mesh design, will keep grease and oil in the pan and not on your panels. Due to its larger stainless steel frame, it more stable than other splash screens and prevents ever the smallest drops from escaping!

✌ LESS CLEANING, MORE RELAXING ❗ – Do you like freshly-fried and mouth-watering bacon but absolutely hate having to clean up the greasy mess? Now you don't have to! FOXEL ultimate oil splatter shield is here to help you enjoy your delicious fried eggs or fish without having to spend hours cleaning your stove top!

✋ ONE SPLATTER GUARD FOR ALL YOUR PANS ❗ – When it comes to versatility, our robust oil and grease fine mesh cover is unrivalled. Due to its 3-leveld notches, you can easily fit it on your 9-inch, 10-inch and up to 11-inch frying pans, cast iron skillets, deep fryers and steamers without worrying about stability. And you can use it as a pasta strainer too!

✨ 100% SATISFACTION OR YOUR MONEY BACK ❗ – You can use the FOXEL sturdy and stainless steel fine mesh splatter guard absolutely risk-free for a whole year! Cook your fish, eggs, meatballs, steaks and bacon frustration-free, and if at any point you're not 100% thrilled with its performance, you can as for a prompt and full refund! Can you afford to miss out on this chance?