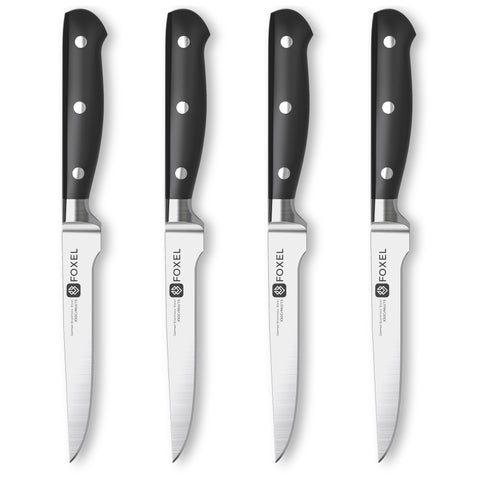 ✋ 365 Day Return Policy and Lifetime Guarantee – We stand by our products. If you aren't happy, neither are we. If you're not absolutely blown away by our knives, simply contact us and we'll email you a return label. If you experience any defects within the lifetime of the original purchaser, we will send you new knives of equal or greater value at the time of original purchase.
💸 High-Quality Knives without charging $100 a knife - Do your current knives saw your steaks or take forever to get just one bite? We understand the pain and frustration in owning discount steak knives that don't hold an edge or have terrible serration. We also understand that buying a $50-100 steak knife might be a little crazy for a normal human. Especially if you aren't a billionaire or so addicted that you are injecting raw steak mush into your veins. That's specifically why we made our steak knives. We want you to have quality knives at a reasonable price. 
🤤 The Smoothest and Most Satisfying Cut $100 Can Buy - One of the most mouth-watering things about high-quality steak is how tender it is. The way it falls apart in your mouth. But the thing is, that all starts with cutting your meat. I don't care how tender the meat is, if you have to saw a steak for 30 seconds with a dollar store steak knife, you aren't going to like it as much. All of our knives are designed specifically with this in mind and especially this knife, our non-serrated model. The cut is so smooth you won't be able to go back to a serrated blade and it will make bargain cuts of meat feel like you spent 3 times as much money.
🚫The Dirtiest Secret High-Class Restaurants Use to Charge You 3x More - If you have ever been to a really nice steak house, no not an almost nice steak house that is really just a nice restaurant, you know that steaks there are REALLY expensive. You'd think it's because they use the finest cuts of meat and in believing that, you would be mostly right. But where they make a lot of your money is in the knives they use. If you cut a nice steak with a crappy steak knife you will think that meat is tough before you have even placed it in your mouth. However, if you use a premium knife, then you will automatically assume the meat you are about to eat is better than it is. It's a sleight of hand. It tricks your subconscious mind into thinking the cut is better than it is. This allows them to charge more and have larger profit margins. 
✅ Rust Resistant German Steel - Made of high-quality Thyssen-Krupp 1.4116, aka X50CrMoV15 German stainless steel, our steak knives will get the job done. This steel clocks in at a Rockwell hardness of 56-58 allowing it to hold an edge well without being vulnerable to rust spots and chipping. This also allows you to hone the edge easily. Japanese steel is great at holding an edge but can chip easily if dropped and can't be honed by most people. While softer stainless steel is great at preventing rust, it won't hold an edge for long. The materials we used for these knives are what we consider to be the best of both worlds. Long-lasting steel that's razor-sharp.
✨ Our Presentation Gift Box Makes for an Unforgettable Gift – If you're looking for a stylish and practical housewarming, anniversary, birthday or retirement gift for your friends or family, then our steak knife sets will not fail to impress. The box is so nice, to be honest, you don't even need to wrap it and we should probably charge more!
---
More from this collection